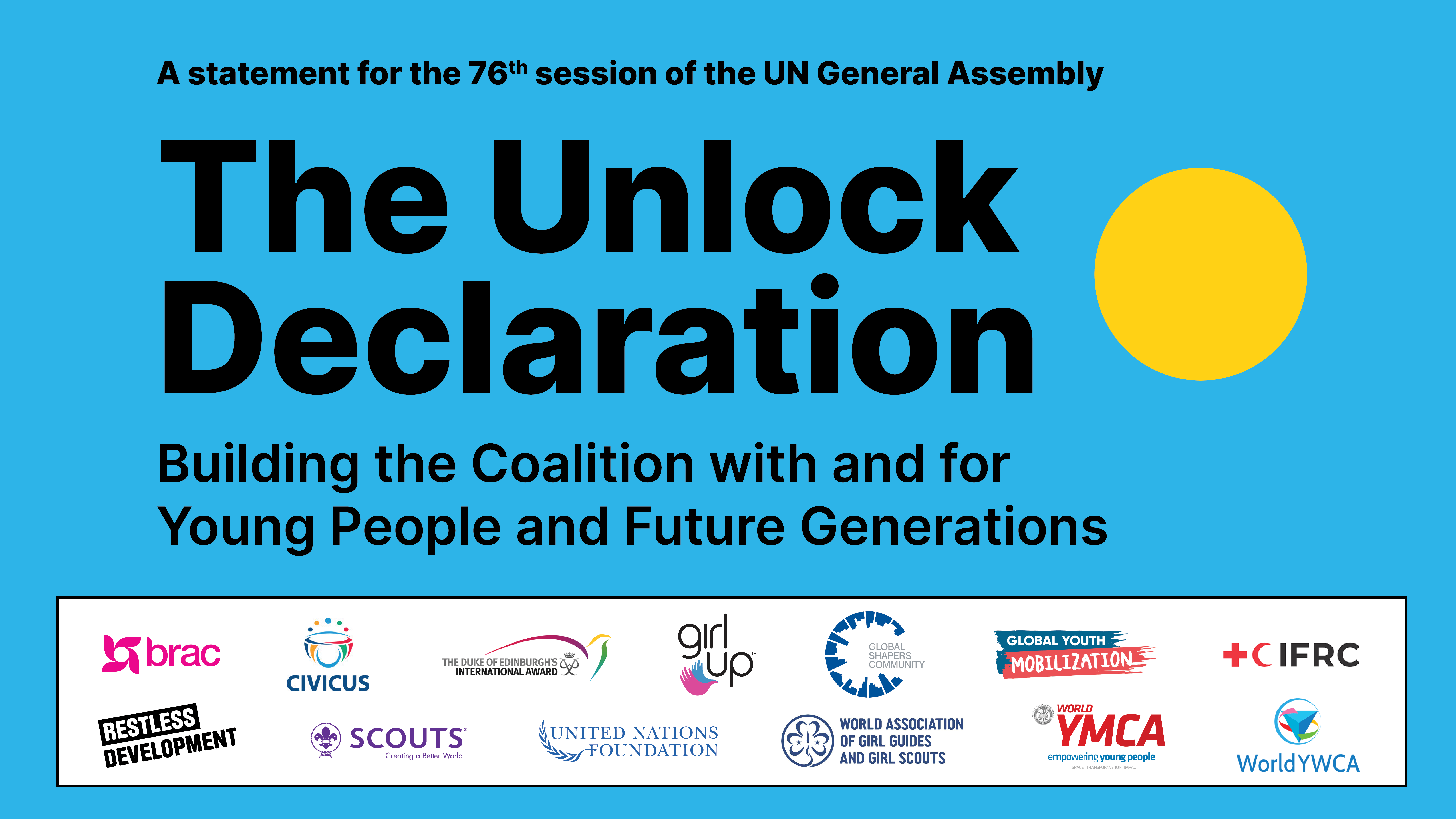 Building the Coalition with and for Young People and Future Generations
A statement for the 76th session of the UN General Assembly, 22nd September 2021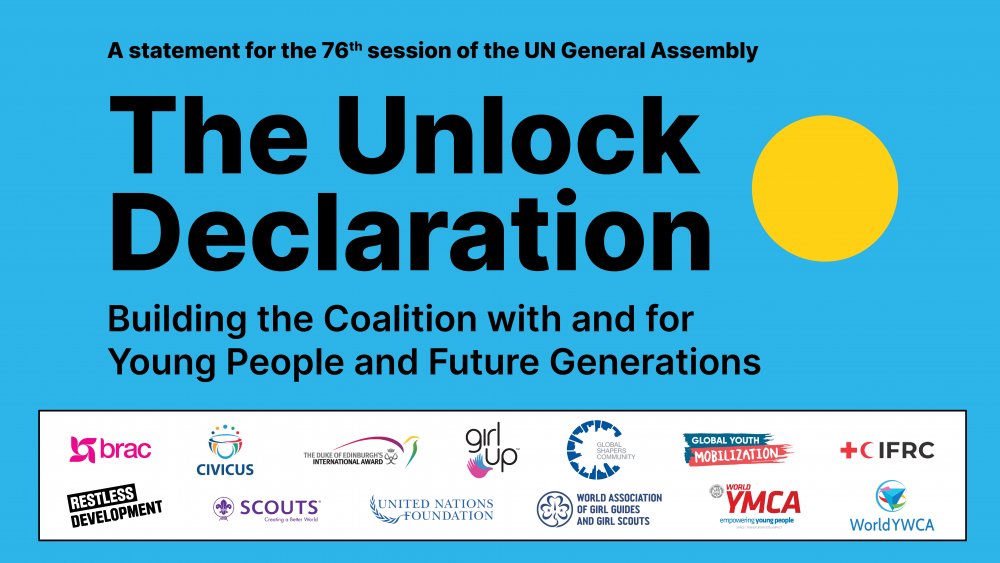 Launched today at the "Unlock the Future" high-level virtual event at the 76th Session of the UN General Assembly, the Global Youth Mobilization and other youth-focused international organisations are proud to sign a new declaration that will build a coalition with and for young people and future generations.
The 'Unlock Declaration' launches a new coalition which will focus on the needs of next and future generations within the international system and highlights the need to prioritize the inputs and perspectives of young people, in order to determine their own futures.
The coalition set out a shared statement of ambition in an 'Unlock Declaration'. Initial priorities include:
Advancing shared goals.

We will increase commitments to act on priorities for young people and future generations, securing gains that make a difference to their lives and to the planet.
Fostering opportunities

.

We will help young people to find opportunities for civic engagement and social action, and to develop the skills they need to lead and mobilise in the face of emerging threats and challenges.
Voice and representation.

We will ensure that young people from all backgrounds are at the heart of decision-making processes and improve meaningful representation for all young people, including those most impacted by discrimination and inequality.
Resourcing

. We will work collectively on increasing funding for child, youth-led, and youth-focused networks and movements, and work with funders to make funding more strategic, inclusive, and accessible.
Signatories of the declaration include WEF Global Shapers, Restless Development, Girl Up, BRAC, the United Nations Foundation and all the members of the Big 6 – World Organization of the Scout Movement, World Young Men's Christian Association, World Young Women's Christian Association, World Association of Girl Guides and Girl Scouts, The International Federation of Red Cross and Red Crescent Societies and The Duke of Edinburgh's International Award. A number of other major campaigning organisations are supporting the work, including Save the Children and the Children's Investment Fund Foundation.
The emergence of the new coalition comes as the Secretary-General calls on the UN General Assembly to bridge the intergenerational divide and as young leaders and activists have injected urgency and momentum into climate campaigns and COVID-19 response and recovery efforts.
As the Unlock the Future coalition, we pledge, through this declaration, to recommit amplifying representation of diverse youth-led voices, setting pragmatic and practical goals designed by young people and increasing accountability to young people and future generations.
Read our full declaration here.
Watch the full Unlock The Future virtual event here:
Read the Unlock the Future event report here.