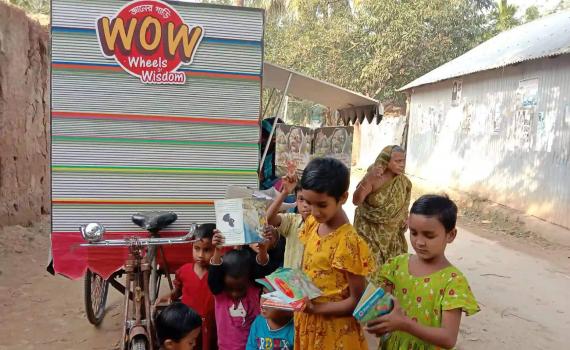 We are so excited to announce that "WoW-Wheels of Wisdom", a GYM Local Solutions funded project in Bangladesh, is one of three winners of the 15th EIFL Library Innovation Award. EIFL (Electronic Information for Libraries) is a not-for-profit organization that works with libraries to enable access to knowledge in developing and transition economy countries in Africa, Asia Pacific, Europe and Latin America.
WoW is a youth-led mobile library project that uses three-wheeled vans with books and an internet connection to promote the continued learning of children in the face of education disruptions, as a result of the effects of the COVID-19 pandemic. Since the start of this project WoW has used three mobile libraries to distribute over 5 600 books to 4 300 children and has provided them with more than 21 000 hours of internet access from their mobile hotspots.
Congratulations to the WoW team! Read more about WoW-Wheels of Wisdom on the Grow Your Reader website.
To read EIFL's full article on the WoW project here.