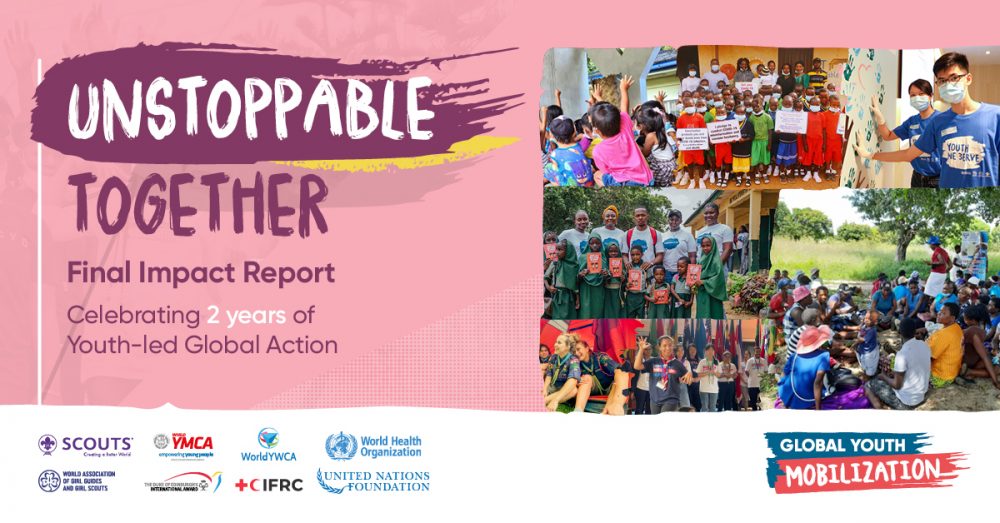 Launched on March 27, 2023 , the Global Youth Mobilization (GYM) final impact report, "Unstoppable Together: Celebrating 2 Years of Youth-led Global Action", highlights the reach and impact of the investment in young people globally to date.
An estimated 1.2 billion young people have been impacted by the COVID-19 pandemic response measures. Disruptions to education, employment, health services and social support have changed the future of an entire generation. To address these challenges, the world's largest Big Six youth organizations initiated the GYM to harness the surge of youth-led activism and action, creative solutions, passion, and commitment, by investing much needed funds at a grassroots level and advocating for the role of young people in COVID-19 recovery and response efforts.
To date the GYM has achieved the following:
Financed projects directly engaging nearly 600,000 young people in developing and implementing activities supporting over 3.63 million community beneficiaries.
Invested $5 million to support 471 youth-led projects in 72 countries and funded 169 national projects, across 125 countries, through the Big Six youth organizations.
Scaled up interventions in four key thematic areas of focus:

Young people tackled the mental and physical health challenges exacerbated by the impacts of the pandemic, through training sessions, workshops, toolkits, recreational spaces, and access to professional support, to address stigma and discrimination, reaching over 440,000 people in their communities.
Directly engaged over 320,000 people to overcome gender inequality and combat domestic and gender-based violence worsened by lockdowns.
Youth-led solutions have helped over 2.3 million people overcome education disruption and employability challenges caused by lockdowns through training, coaching, and providing access to key resources like books and digital devices to improve their digital literacy.
To curb the spread of the pandemic, young people became a critical part of the response and recovery efforts, reaching over 470,000 people, to promote COVID-19 protection and prevention measures, debunk myths, provide vital health information and mobilize their communities to adopt best practices to increase vaccine uptake.
The final report represents the success of the Big Six's collaboration and partnership on a global scale and the demonstrated power of youth-led decision-making on the allocation of funding, and the importance of implementing new and accessible funding opportunities for young people.
Commenting on the report, Dr Tedros Adhanom Ghebreyesus, WHO Director-General, said:
"WHO is proud to support the Global Youth Mobilization to engage, empower and equip young people as a driving force in the recovery from the COVID-19 pandemic," said WHO Director-General, Dr Tedros Adhanom Ghebreyesus. "This unique initiative demonstrates the catalytic potential of a youth-led model for leadership, decision-making and localized solutions. WHO remains committed to continuing to work with the Global Youth Mobilization and we encourage other partners to join the next phase of the initiative and invest in the health and well-being of future generations."
INSERT RELEVANT QUOTE FROM ORGANISATION – SUGGEST EITHER CEO OR YOUTH BOARD REP
The report, which includes case studies of global youth-led projects, highlights a series of recommendations for multinational agencies and institutions, governments, policymakers and corporations to address and prioritise the needs of young people and future generations.
You can read the full report here and find an executive summary here.
About the Global Youth Mobilization
The Global Youth Mobilization (GYM), launched in December 2020, is a movement of young people taking action to address global issues.
Powered by the Big Six – the world's largest global youth organisations – and supported by the World Health Organization and the United Nations Foundation, the GYM aims to address the negative impact of the pandemic on young people and support them to build back better.
To support young people to respond to the various challenges presented by the pandemic, the GYM has been delivering programmes at national and local levels, whilst ensuring the experiences, creativity and passion of young people inform policies and decisions affecting their lives.